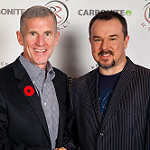 It was truly an honor and privilege to meet 4 Star General Stanley McChrystal who is retired from the Army and the Joint Special Operations Task Force (JSOC). In his recent book Team of Teams my mentor Robin Robins commented that "running a business is not complicated, it's complex." She went on to say "There are so many other things going on that we need to know, worry about, etc. for many of us we have to adapt to be effective leaders. We have to change our approach."
General McChrystal shared his wisdom in leadership as simply, "Listen, Learn… Then Lead." His book's concept is to become a more adaptable organization and "adaptable trumps efficient" going on to conclude that "at the end of the day, you have to be effective" and "if it's stupid and words, it's not stupid."
He reminded me that regarding IT security, Richard Clarke said "If you spend more on coffee than on IT security, you will be hacked. What's more, you deserve to be hacked." The old rules no longer apply, and that to succeed in this business climate we must be adaptable and sharing information in real time. General McChrystal's team was empowered to make decisions closer to the point of action. The result was better decisions, they owned it, and a higher rate of activity.
General McChrystal's tip to me was to decentralize my business until it was uncomfortable, then decentralize again. He said he went from approving every raid to approving none.
At the end of the meeting the folks at Carbonite handed me his book. The book is an amazing testament to the team he assembled out of multiple separate organization to achieve and complete a shared mission and objective. It was an honor to meet such a man and learn from his leadership. Thank you General Stanley McChrystal.