So I've been watching a few episodes of Shark Tank…er..uh at work. I really think you should too. Share them with your team and talk about it. I strongly recommend checking it out. I think you will leave with some valuable business lessons.
What is more interesting is that I was recently meeting with my mastermind group and had chance to meet Kevin O'Leary, "Mr. Wonderful," from the TV show, Shark Tank. I learned even more from him. The first thing that really resonated with me, is that there is "Nothing more satisfying in life than creating a business and being successful."
When I watch in my office I write down the top ideas on the white board. What I wrote recently, matched almost exactly to what Kevin O'Leary explained to me at the meeting.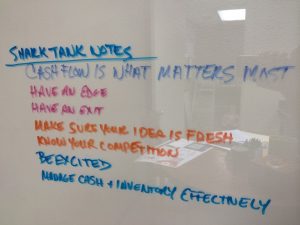 What 3 things are consistent across all Shark Tank funded companies?
1. Articulate your idea in 90 seconds or less
2. Convince investors that you are the right people to execute the business plan
3. Know your numbers and have a comprehensive understanding of business model
And what's more Shark Tank is about watching the pursuit of freedom. Not about money, it's about freedom. And as the most popular show on Friday nights, it really resonates that the "way" is to turn success into financial freedom. And capitalism is freedom.
Steal This, Mr. Wonderful's 10 Secrets To Being A Successful Leader:
1. Employees are not your friends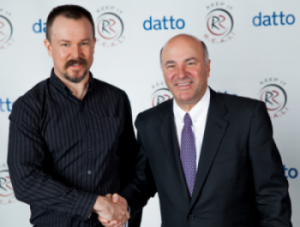 2. Maintain a clear line of command
3. Be accessible
4. Delegate, delegate, delegate
5. Don't procrastinate
6. Never pass the buck
7. Service trumps price
8. Life is not fair
9. The boss does not always make the most money
10. Business is war, there are winners and losers
Interesting fact…. Did you know that the most popular demographics of the viewers of Shark Tank, the TV show, is young girls ages 9-18? Wow! It's one of my favorite shows and, yes, I do watch it with my daughter who happens to be 13 right now.
What's more, these are all great lessons to learn and apply. The best thing I get out of watching Shark Tank is the time I get to spend with my daughter and watching her learn the ins and out of the entrepreneurial life.