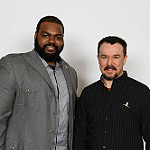 I was recently at my mastermind meeting in Nashville. There are tons of like-minded business entrepreneurs there who give each other support and encouragement in our businesses. Since there are so many people crammed in a room, during business hours, there is one simple rule with our cell phones: They need to be on vibrate only.
If your cell phone rings during any presentation, you pay a bounty of $100 to the charity we have chosen. Or you can smash your phone with a big hammer in front of the whole room. Not many people do that, they usually just pay the bounty.
This past meeting our celebrity guest speaker was Mike Oher from the Carolina Panthers, formerly of the Tennessee Titans and the Baltimore Ravens. Mike Oher is the "in real life" person in the book "The Blind Side: Evolution of a Game" by Michael Lewis and the movie "The Blind Side" that was based off of the book. It was a very special meeting to be able to listen to him speak and meet him face-to-face.
Here are some of my take always from the meeting:
Sports is second.  Doing something positive is first.
Realize there are people with more talent than you, but if they are not putting in the work, getting up early, working out, eating right, they will not have what it takes when they need it.
Preparation is key. If it's poor, your game will be poor.
Get the little things down; the little things are what wins.
Always think about what is next. Focus. Ask yourself, What can I do to get better? What can I do to not be out-thought? Don't get complacent.
Stay humble.
Stay positive. Prove negative people wrong. There are so many that told me I wouldn't make it. Even with negative self-talk, tell myself I can do it.
Mike grew up very close to St. Jude's Children's Research Hospital in Memphis, but never got the chance to see them when he was younger. He spoke to us on behalf of St. Jude's, only if all of the speaking funds were donated to the charity. It was truly humbling to see someone who came from such challenging childhood speak about the positive lessons he's learned throughout his life. These takeaways are something I'll remember and act on in my business and personal life. How about you?
Do you remember what I said about cell phones needing to be on vibrate or silent mode?  Well, right in the middle of the meeting my cell phone rings. Oops!  I've made the choice to send my payment to St. Jude versus taking a hammer to my phone.  If you would like to make a donation to help out a very worthy cause, visit www.robinsbigseminar.com/stjudeto help Robin Robins, owner of Technology Marketing Toolkit and the hostess of the seminar I attended, reach her goal of donating $1 million to St. Jude.